Parts Department

To insure your Volvo is professionally serviced, use only Volvo genuine parts. They are always guaranteed to carry the same uncompromising promise as the car itself. All Volvo Genuine Parts have been designed, tested and manufactured according to Volvo's detailed specifications, in order to optimally interact with all the parts and systems of your car.

Batteries
Carling Volvo has the power to keep you going.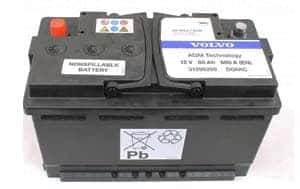 Your Volvo's battery is one of its most important components. It stores and provides power to start its engine and to operate its many electrical and electronic systems. With time and use, a battery's efficiency gradually deteriorates, affecting its ability to hold its charge and to start the engine. Avoid being inconvenienced unexpectedly by an exhausted battery by having your Volvo dealer test your battery's condition during required maintenance and have it replaced if necessary. They can also test your Volvo's charging system to make sure it is performing properly to replenish the battery's charge while driving. Genuine Volvo replacement batteries are manufactured to match your Volvo's electrical system specifications and are backed by a 5-year warranty with the first 2 years allowing for a full battery replacement.